The Jungle Book Review: Stunning, Enchanting and Action Packed
The Jungle Book movie review
Cast: Neel Sethi, Ben Kingsley, Idris Elba, Bill Murray, Scarlett Johansson, Christopher Walken, Lupita Nyong'o
Director: Jon Favreau
KawKaw Rating: 4.5 Stars
To all the directors out there. Learn from Jon Favreau. If there's a way to take timeless classics and make stunning movies out of them without being bland and boring then this is it. From beginning to end, Jungle Book is packed with stunning action, tasteful humor and emotion. There's not a single moment in the movie when you would feel bored or out of place. But beware. This is no children's movie. This Jungle Book, although based on Rudyard Kipling's timeless classic, is quite dark and gory. But the film truly takes the cake when it comes to visual effects. It is impossible to find out just by watching where real animals have been used and where they were created in computer.
The film has only one live actor in the form of debutant Neel Sethi who was apparently chosen from 12,000 other aspirants for the role. Today we can confirm he was the perfect choice. No one else could have done it any better. Filmed entirely in the Disney Studios in Los Angeles, Jungle Book transports its audience to the central Indian jungle and does it perfectly. India is at the very heart of this move – be it the film itself or even the marketing strategy. Indian release of the film happening one week before its release in the US also speaks volume of the importance given to India.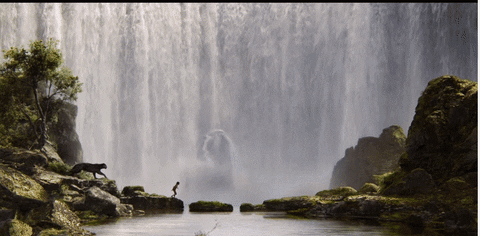 Jungle Book comes with an ensemble of voice cast. Sher Khan, the ferocious tiger, is played by Edris Elba/Nana Patekar, while Bagheera, the Black Panther, is Ben Kingsley/Om Puri and Baloo, the bear, is Bill Murray/Irfan Khan. From the very beginning the film plunges into the usual predator and prey story that we are so used to hearing from the jungle, but it does that with full control. Bagheera. Bagheera is Mowgli's mentor in the film and escorts him on his journey to a man's village outside the jungle. On his way Mowgli encounters many obstacles and comes across many fascinating animals each of which has been portrayed with impressive flair. For instance, in a scene he runs into Kaa the Python, played by Scarlett Johansson/priyanka Chopra who casts a hypnotic spell on him. And then there is King Louie (voice by Christopher Walken/Bugs Bhargava), to whom Mowgli is captured and carried by an army of Simians.
If one were to highlight just one scene from the movie which truly captures its spirit, it would be the scene where Mowgli is chased by Shere Khan and he falls into a gorge in midst of a horde of crazily running buffaloes. That scene will make you sit on the edge of your seat and make you want that the movie never ends.
Jungle Book is one movie where we have to say Mr. Pahlaj Nihalani was right. It's in no way a children's movie. The animals look real and they do seem to 'leap out of the screen' at you. So don't always blame the poor guy.
Let's not dwell too much. Let's end this by saying that Jungle Book, the movie, has enlisted itself in the hall of all time greats. it's definitely the best movie to have come out this year and a MUST WATCH.